Hello Expert,
I hope I'm writing the right forum!
I have some questions about the truth parent particle, I have used a root file for Higgs decaying to 2 gammas, there are some kinematic parameters and I would like to produce the gamma that comes from Higgs, and as I understood that I should look at the parent particles for that. but the problem for me is when I open the root file and I look at this photon truth parent I haven't found the kinematic parameters that I want, please find attached the screen of the TBrowser: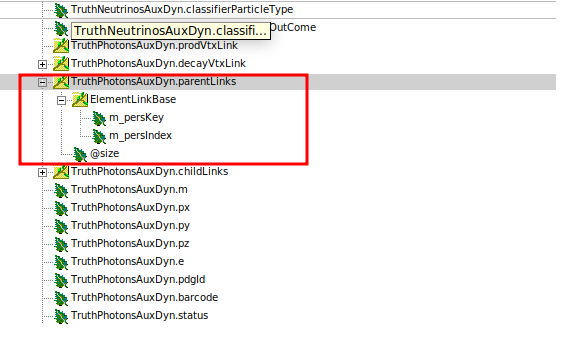 Knowing that the print of this branch is:
…*
*Br 232 :TruthPhotonsAuxDyn.parentLinks : *
| vector<vector<ElementLink<DataVector<xAOD::TruthParticle_v1> > > >                                         *


*Entries : 10000 : Total Size= 608577 bytes File Size = 70072 *
*Baskets : 64 : Basket Size= 329728 bytes Compression= 8.66 *

Your help is very appriciated!